You are here
Back to top
The Mermaid's Mirror (Paperback)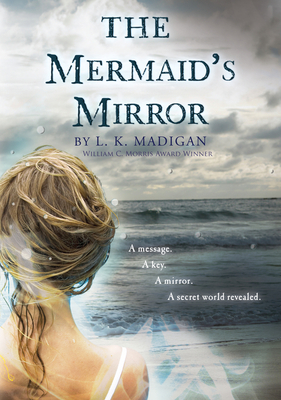 $8.99
Usually Ships in 1-5 Days
Description
---
A message. A key. A mirror. A secret world unlocked.
Lena has lived her whole life near the beach, walking the shore, breathing the salty air,swimming in the cold water, and watching the surfers rule the waves. As her sixteenth birthday approaches, Lena vows to learn to surf. Her father forbids it.
But something Lena can't identify at first—an ancient, powerful magic—keeps drawing her to the water. One day, she finally catches sight of it: a beautiful woman, with a silvery tail.
Now nothing can stop Lena from seeking the mermaid, not even the dangerous waves at Magic Crescent Cove.
And what Lena sees in the mermaid's mirror will change her life forever.
About the Author
---
L. K. Madigan lives in Portland, Oregon with her husband, son, two big black dogs, hundreds of books, and a couple of vintage cars.
Praise For…
---
"With highly imagistic descriptions and savvy dialogue, Madigan offers a rewarding and credible story that uses fantasy elements to bare truths about family ties."--Booklist, starred review


"Mixing supernatural elements with the types of family problems and growing pains she explored in Flash Burnout, Madigan introduces Lena, a girl obsessed with the sea and learning to surf . . . emotions at play feel very real, and Madigan does a good job of evoking the fog of uncertainty that envelops Lena as she uncovers long-buried secrets--she truly is like a fish out of water."--Publishers Weekly


"Be rewarded with a heartthrob of a merman, enthusiastic surfing scenes, and a well-integrated blend of magic and realism both on land and underwater."--Bulletin

Praise for FLASH BURNOUT
Fall 2010: New England Children's Booksellers Advisory Council's Fall Top Ten List
Winner of the 2010 William C. Morris Award
"With just enough humor to diffuse the tension and the art and science of photography as a backdrop, this rich romance explores the complexities of friendship and love, and the all-too-human limitations of both. It's a sobering, compelling, and satisfying read for teens and a promising debut for a new young-adult author."—Booklist, starred review
"Flash Burnout gets high marks from me in all categories. Voice? Check. Plot that matters? Check. Writing style? Flawless. I would say that this book could be described as Laurie Halse Anderson meets John Green, with a whole new set of humor and imagery that is all its own."—Holly, Annie Bloom's Bookstore, Portland OR
#4 on Indiebound's Top Ten List