You are here
Back to top
All 4s and 5s: A Guide to Teaching and Leading Advanced Placement Programs (Paperback)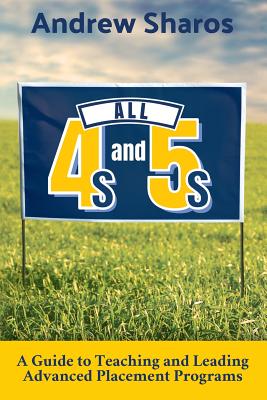 $24.95
Usually Ships in 1-5 Days
Description
---
Passing "the test" is only one part of this story.
When Andrew Sharos began teaching Advanced Placement US History (APUSH), the school's track record on AP exams left something to be desired. The school scores averaged a 2.7 out of 5, and only 18 percent of the APUSH students passed the exam the year before. In his first year of teaching APUSH, 92 percent of his students passed the exam. And in years that followed, 100 percent of his APUSH students passed the exam.
With a national average near 50 percent on the APUSH exam, the fact that every student in Sharos's class passed is pretty incredible. But there is more to this story: The odds are stacked against the students in his suburban-Chicago school. Financial hardship, full-time jobs, and hunger are a "normal" part of life for many of his students. Despite the daily challenges they face, these students are learning they can beat the odds. It's a heartwarming, unlikely success story proving that, with the proper support, every student can experience academic success.
All 4s and 5s is a practical guide to teaching AP courses and leading AP programs. With twenty-five classroom strategies and twenty-five program strategies, All 4s and 5s equips you to develop a culture of academic and personal success.
"This book is filled with hope, and it showcases how the intensity of AP learning is filled with relationships and life lessons that last much longer than the knowledge gained in the classroom."
--Dr. Robert Dillon, author, and director of innovation, University City School District
"Straight from the shoulder, devoid of annoying academic jargon, searingly honest about failures and successes--Sharos gives us more than he imagines. Student outcomes are about students--not outcomes. A good book; heed its advice."
--Steven M. Avella, author, history professor, Marquette University
"This is the AP book I have been waiting for From the first chapter to the end, it is full of practical, applicable, and creative strategies."
--Edwina Henslee, director, College Board