You are here
Back to top
Guinness World Records 2015 (Hardcover)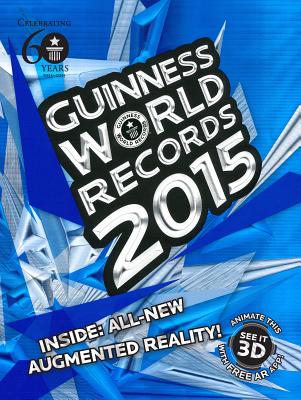 Description
---
With a fresh new design and feel inspired by innovations in tablet technology, the latest GUINNESS WORLD RECORDS book presents thousands of new and updated records, along with hundreds of amazing never-before-seen photographs. The 2015 edition showcases the very best of the most recent world records, with new subjects as diverse as castles, 3D printing, the search for alien life and the latest developments in AI and robotics. Plus, the Flashback features offer a look back at the archives to bring you the best of the classic and iconic records from the past 60 years. Meanwhile, the Gallery spreads present the best GUINNESS WORLD RECORDS photography across themed topics such as giant musical instruments, wacky vehicles and animals in action. And look out for details of how readers can become record-breakers themselves.
See it 3D! - The latest edition of our FREE Augmented Reality app brings the book to life with more exciting and interactive digital content, including a 3D animation of the tallest man who ever lived – Robert Wadlow, who reached the towering height of 2.72 m (8 ft 11.1 in). Plus, you will be transported to an underwater submarine so that you can dive with creatures as exotic as the great white shark! Also, you will encounter the world's most venomous spider – get closer and it will surprise you! Download the new app now to experience a whole new dimension of records.
About the Author
---
GUINNESS WORLD RECORDS is the universally recognized global authority on record-breaking achievement. First published in 1955, the annual GUINNESS WORLD RECORDS book has gone on to become one of the biggest-selling copyright titles of all time, selling over 2.7 million copies a year. Since its launch nearly 60 years ago over 130 million copies - including 400,000 ebooks - have been sold in 20 languages, in more than 100 countries. The internationally renowned brand is also available across a number of platforms; GUINNESS WORLD RECORDS global television shows are watched by 750 million viewers annually, over 390,000 users subscribe to GWR's two YouTube channels, the global website receives 12 million viewers annually and the brand has 1.25 million fans on Facebook.