You are here
Back to top
Team of Teams: New Rules of Engagement for a Complex World (CD-Audio)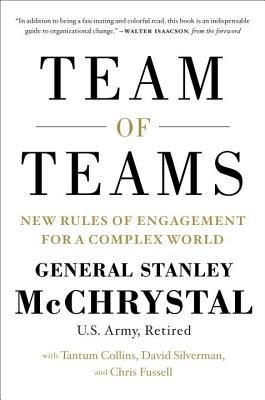 Description
---
The retired four-star general and and bestselling author of My Share of the Task shares a powerful new leadership model

Former General Stanley McChrystal held a key position for much of the War on Terror, as head of the Joint Special Operations Command. In Iraq, he found that despite the vastly superior resources, manpower, and training of the U.S. military, Al Qaeda had an advantage because of its structure as a loose network of small, independent cells. Those cells wreaked havoc by always staying one step ahead, sharing knowledge with each other via high-tech communications.

To defeat such an agile enemy, JSOC had to change its focus from efficiency to adaptability. McChrystal led the transformation of his forces into a network that combined robust centralized communication ("shared consciousness") with decentralized managerial authority ("empowered execution").

Now he shows not only how the military made that transition, but also how similar shifts are possible in all kinds of organizations, from large companies to startups to charities to government agencies. In a world of rapid change, the best organizations think and act like a team of teams, embracing small groups that combine the freedom to experiment with a relentless drive to share what they've learned.

McChrystal and his colleagues explain their process for helping organizations embrace this model. They also share fascinating research and examples from settings as diverse as emergency rooms and NASA's mission control center.

Read by Paul Michael. Introduction and recaps read by General Stanley McChrystal.
About the Author
---
STANLEY MCCHRYSTAL's last Army assignment was commanding all U.S. and international forces in Afghanistan. He had previously served as director of the Joint Staff and as commander of the Joint Special Operations Command. The author of My Share of the Task, he is currently a senior fellow at Yale's Jackson Institute for Global Affairs and cofounder of the McChrystal Group, a leadership consulting firm. Tantum Collins, David Silverman, and Chris Fussell are his colleagues at the McChrystal Group.
Praise For…
---
"In addition to being a fascinating and colorful read, this book is an indispensable guide to organizational change." –Walter Isaacson, from the foreword
 
"This is a bold argument that leaders can help teams become greater than the sum of their parts." —Charles Duhigg, author of The Power of Habit
 
"Team of Teams is erudite, elegant, and insightful. An unexpected and surprising wealth of information and wonder, it provides a blueprint for how to cope with increasing complexity in the world. A must read for anyone who cares about the future—and that means all of us." —Daniel Levitin, author of The Organized Mind
 
"Team of Teams is a compelling, pragmatic argument for a more information-rich, decentral­ized approach to management from a leader who has successfully weathered storms with higher stakes than most business leaders will ever encounter. A must-read book for anyone serious about taking their leadership further, faster."—John Venhuizen, president & CEO, Ace Hardware Corporation
 
"General Stan McChrystal's Team of Teams is an instant classic. Best leadership book I have read in many a decade, by one of our nation's most gifted and iconic general officers."—Admiral James Stavridis, USN (Ret), Supreme Allied Commander at NATO 2009–2013; dean, The Fletcher School of Law and Diplomacy, Tufts University
 
"The lessons and concepts outlined in Team of Teams provide a valuable blueprint for leader­ship across any industry or domain. The principles of classical leadership struggle to deal with today's pace of change, free-flow of information, and the entrepreneurial spirit of the digital generation. Team of Teams harnesses these new realities as assets, providing a leader­ship framework to produce the inclusiveness and adaptability of a fast-moving start-up, at the scale of any size organization." —Brad Smith, president and CEO, Intuit
 
"In Team of Teams, General Stanley McChrystal, who won some of our most striking victories in the great war between nations and terrorist networks, shares insights for all in this lucid, persuasive, and sometimes wrenching account of our troubled yet transformational times." —John Arquilla, professor, Defense Analysis United States Naval Postgraduate School
 
"In the fast-moving world of today and tomorrow, organizations that don't adapt will sim­ply fade. Team of Teams makes this case in compelling ways. I literally could not put the book down." —Peter Bergen, author of Manhunt: The Ten-Year Search for Bin Laden from 9/11 to Abbottabad"