You are here
Back to top
Miss Dreamsville and the Collier County Women's Literary Society: A Novel (Paperback)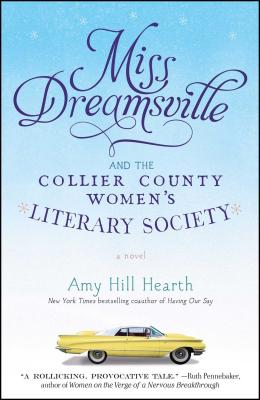 $18.99

Usually Ships in 1-5 Days
Description
---
A brilliant debut novel from a New York Times bestselling author about a transplanted wife from Boston who arrives in Florida in the 1960s, starts a literary salon, and shakes up the status quo.

Eighty-year-old Dora, the narrator of a story that began a half century earlier, is bonding with an unlikely set of friends, including Jackie Hart, a restless middle-aged wife and mother from Boston, who gets into all sorts of trouble when her family moves to a small, sleepy town in Collier County, Florida, circa 1962.

With humor and insight the novel chronicles the awkward North-South cultural divide as Jackie, this hapless but charming "Yankee," looks for some excitement in her life by accepting an opportunity to host a local radio show where she creates a mysterious, late-night persona, "Miss Dreamsville," and by launching a reading group—the Collier County Women's Literary Society—thus sending the conservative and racially segregated town into uproar. The only townspeople who venture to join are regarded as outsiders at best—a young gay man, a divorced woman, a poet, and a young black woman who dreams of going to college.

This brilliant fiction debut by Amy Hill Hearth, a New York Times bestselling author, brings to life unforgettable characters who found the one thing that eluded them as individuals:a place in the world. Inspired by a real person, Miss Dreamsville and the Collier County Women's Literary Society will touch the heart of anyone and everyone who has ever felt like an outsider longing to fit in.
About the Author
---
Amy Hill Hearth is the author of Miss Dreamsville and the Collier County Women's Literary Society and Miss Dreamsville and the Lost Heiress of Collier County, in addition to author or coauthor of seven nonfiction books, including Having Our Say: The Delany Sisters' First 100 Years, the New York Times bestseller-turned-Broadway-play. Hearth, a former writer for The New York Times, began her career as a reporter at a small daily newspaper in Florida, where she met her future husband, Blair (a Collier County native). She is a graduate of the University of Tampa.

Praise For…
---
Amy Hill Hearth's delightful first novel, Miss Dreamville and the Collier County Women's Literary Society is a rollicking, provocative tale about how reading and meeting others who are different can be the most subversive of acts.
—Ruth Pennebaker, author of Women on the Verge of a Nervous Breakthrough

"Amy Hill Hearth honors and humanizes people and their wonderful diversities in her debut novel, Miss Dreamsville and the Collier County Women's Literary Society. She astutely weaves pertinent, factual histories into her fictional debut novel. What a laudable book!" –Camille O. Cosby

"Segregation, feminism, gays coming out, interracial dating, it's all in there, written as it happened in small towns everywhere. And wisdom; you could learn a lot about life from reading this book. Most of all, be daring, be friends, be true to yourself. By the end, I cried and I must say, I wouldn't mind hearing more about each of the richly painted characters."
—Patricia Harman author of The Midwife of Hope River, Arms Wide Open: A Midwife's Journey and The Blue Cotton Gown

Miss Dreamsville's cast of characters includes a postmistress, a librarian, a convicted murderer, a northern transplant, a lone African-American girl, and an even lonelier gay man, among others. Set in Naples in the early 1960s, its local color and plot will surprise Florida natives and visitors alike. –Enid Shomer, author of The Twelve Rooms of the Nile

"It's a fun novel that flies by and makes readers glad Hearth is expanding her own literary horizons."
— The Hearld Sun