You are here
Back to top
J.K. Lasser's Your Income Tax: For Preparing Your 2015 Tax Return (Paperback)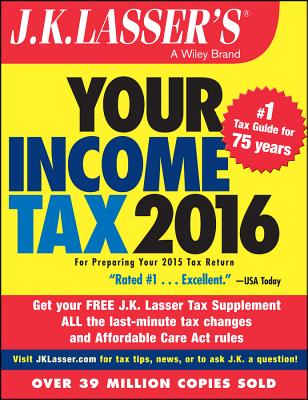 Description
---
Prepare your 2015 taxes with ease
J.K. Lasser's Your Income Tax 2016: For Preparing Your 2015 Tax Return is a bestselling tax reference that has been trusted by taxpayers for over seventy-five years. Updated to reflect the changes to the 2015 tax code, this authoritative text offers step-by-step instructions that guide you through the worksheets and forms you need to file your taxes according to the best tax strategy for your financial situation. Approachable yet comprehensive, this highly-regarded resource offers tax-saving advice on maximizing deductions and sheltering income, and provides hundreds of examples of how up to date tax laws apply to individual taxpayers. Additionally, special features inserted throughout the text highlight important concepts, such as new tax laws, IRS rulings, court decisions, filing pointers, and planning strategies.
Tax laws change each year, and it is critical that you choose a trusted reference when updating your understanding of current tax codes. This highly-regarded text features the updated information you are looking for, as well as the fundamental best practices you need to confidently and accurately file your taxes in 2016.
Review the most recent tax law changes, ensuring that your tax preparation strategy is in line with legal requirements
Explore over 2,500 tax-saving tips that maximize your return by making the most of available deductions, sheltering income, and more
Access free supplemental materials encompassing the tax forms you need to file
Leverage a comprehensive topic index and quick reference section to quickly pinpoint specific information and expedite the tax preparation process
J.K. Lasser's Your Income Tax 2016: For Preparing Your 2015 Tax Return is an essential text that guides you in preparing and filing your tax return with confidence.
About the Author
---
J.K. Lasser Institute has been the premier publisher of consumer tax guides since 1939, when Jacob Kay Lasser first published Your Income Tax. Since then, the guide has been published continuously for over seventy years and read by over 39,000,000 people. The J.K. Lasser Institute also publishes personal finance books such as Small Business Taxes and 1001 Deductions and Tax Breaks. J.K. Lasser Institute spokespeople are regularly sought after as media tax experts. They regularly appear on such broadcast programs as CNBC, CNN, and Bloomberg TV. They are also often featured in numerous periodicals, including The Wall Street Journal, USA Today, Self Magazine, The New York Times, Newsweek and Reader's Digest.