You are here
Back to top
Elder Scrolls V: Skyrim Special Edition: Prima Collector's Guide (Hardcover)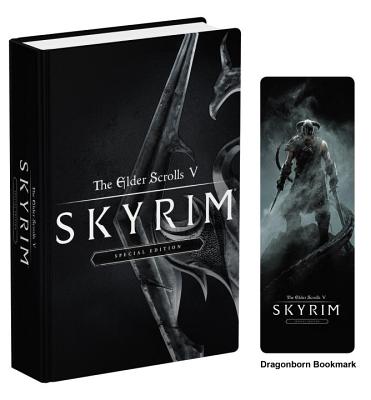 Description
---
A landmark guide returns! To coincide with the launch of The Elder Scrolls V: Skyrim Special Edition, Prima Games has re-released the celebrated strategy guide for fans and new players alike.
Bonus Item Included: Dragonborn Bookmark—Keep your place in this massive guide with this deluxe bookmark featuring gripping artwork.
Premium Hardcover: This keepsake is protected by an updated protective hardcover for collectors and fans.
Updated eGuide Access Included.
More than 1,100 Pages: Complete, accurate, and Bethesda-approved content covering all game add-ons including Dawnguard, Hearthfire, and Dragonborn DLC content.
Large 2-Sided Map Poster: All Hold Capitals, Strongholds, and important locations labeled.
More than 5,000 Enemies and 2,000 Items Detailed: Exhaustive Bestiary and Inventory chapters detail critical data.
More than 350 Quests: All possible quests revealed with best outcomes highlighted.
More than 250 Collectibles Gathered: Explore the main and hidden locations across Skyrim and Solstheim.
3,000+ Hours Played: Expert advice on character creation and tactical knowledge for the most difficult battles.
About the Author
---
Originally hailing from the United Kingdom, David Hodgson left his role as a writer of numerous British video game magazines (including Mean Machines, Computer & Video Games, and the Official Nintendo and Sega Saturn magazines) and a bohemian lifestyle on a dry-docked German fishing trawler to work on the infamous GameFan magazine in 1996. David helped to launch the fledgling GameFan Books and helped form Gamers' Republic in 1998, authoring many strategy guides for Millennium Publications, including The Official Metal Gear Solid Mission Handbook. After launching the wildly unsuccessful Incite Video Gaming and Gamers.com, David found his calling, and began authoring guides for Prima Games. He has written more than 30 Prima strategy guides, including The Godfather: The Game, Knights of the Old Republic, Perfect Dark Zero, Half-Life 2, and Burnout Revenge. He lives in the Pacific Northwest with his wife, Melanie, and an eight-foot statue of the great Cthulhu.

Stephen Stratton has worked on more than 30 projects in his five years of writing strategy guides for Prima. His repertoire of mastered games includes Counter-Strike: Condition Zero, Rome: Total War, Mercenaries: Playground of Destruction, The Legend of Zelda: The Wind Waker, Super Mario Sunshine, Hitman: Contracts, and Splinter Cell: Chaos Theory. Stephen is a lifelong video gamer who attended the Rochester Institute of Technology. In addition to his Prima Games guides, he also held a staff position with Computec Media and managed the strategy section of their incite.com video game website.