You are here
Back to top
J.K. Lasser's Your Tax 2008 (Paperback)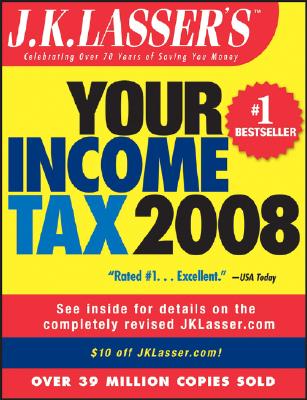 Description
---
Navigating the ever-changing income tax landscape is no easy task. Each year, millions of taxpayers are affected by new IRS regulations, federal court decisions and amendments from congressional tax committees. This year alone, there are many important developments such as the AMT exemption, new parameters on charitable giving, as well as regulations on residential energy improvements. To make informed decisions about income taxes and the changes that impact your return, there's only one guide that won't lead you astray.
J.K. LASSER'S YOUR INCOME TAX 2008
is a proven, accessible resource with important strategies, useful recommendations and of course, all the latest tax law changes.
Finding the new deductions and planning opportunities can be daunting but savvy taxpayers know they can rely on J.K. LASSER'S YOUR INCOME TAX 2008: For Preparing Your 2007 Tax Return to pinpoint and explain last minute changes they may have missed. Coverage of current tax law changes, both comprehensive and comprehensible is what the Lasser team of experts provides.
J.K. LASSER'S series of tax guides have been well received by professionals and consumers because they are authoritative, easy-to-use and concise. Here are some highlights:
Form 1040 mapped to the section of the guide you need
Line-by-line explanations and instructions for commonly used forms
More than 2,500 easy-to-use tax planning tips and strategies
Quick-reference section highlighting what's new (good or bad) for 2007
Key tax numbers for 2007 - the most important limits and maximums at a glance
Special rules and strategies for the self-employed
About the Author
---
J.K. Lasser Institute has been the premier publisher of consumer tax guides since 1939, when Jacob Kay Lasser first published Your Income Tax. Since then, the guide has been published continuously for over sixty-five years and read by over 39,000,000 people. The J.K. Lasser Institute also publishes several personal finance books, including Small Business Taxes, Home Owner's Tax Breaks, 1001 Deductions and Tax Breaks, Year-Round Tax Planning, and more. J.K. Lasser Institute spokespeople are regularly sought after as media tax experts. They regularly appear on such broadcast programs as CNBC, CNN, and Bloomberg TV. They are also often featured in numerous periodicals, including The Wall Street Journal, USA Today, Self Magazine, The New York Times, Newsweek and Reader's Digest.