You are here
Back to top
The Silence of Bonaventure Arrow: A Novel (Paperback)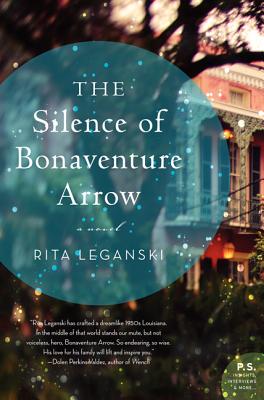 $16.99
Email or call for price.
March 2013 Indie Next List
---
"This is storytelling that grabs your heart, mind, and soul. Love, family, secrets, betrayals, and the magical power of listening make this a book that will remain with any reader for a long time. Bonaventure is an unforgettable boy, who captures readers from the first page. Pieces of his family's mysteries unfold in the silence, yet no sound or word is ignored by this remarkable boy. Never has silence said or accomplished so much."
— Becky Anderson, Anderson's Bookshop, Naperville, IL
Description
---
"Suffused with the mystical charm of New Orleans and the Louisiana bayou, Leganski's lyrical debut novel conjures dreams of voodoo, the power of healing, and the distinction between hearing and listening. This extraordinary, evocative novel will cast a spell over fans of magical realism in the vein of Alice Hoffman, Kaye Gibbons, and Sarah Addison Allen. Simply enchanting." — Library Journal (starred review)
A magical debut novel from Rita Leganski, The Silence of Bonaventure Arrow is the tale of a mute boy whose gift of wondrous hearing reveals family secrets and forgotten voodoo lore, and exposes a murder that threatens the souls of those who love him.
Bonaventure Arrow didn't make a peep when he was born, and the doctor nearly took him for dead. But he was listening, placing sound inside quiet and gaining his bearings. By the time he turns five, he can hear flowers grow, a thousand shades of blue, and the miniature tempests that rage inside raindrops. He also hears the voice of his dead father, William Arrow, mysteriously murdered by a man known only as the Wanderer.
Exploring family relics, he opens doors to the past and finds the key to a web of secrets that both hold his family together, and threaten to tear them apart.
Set against the backdrop of 1950s New Orleans, The Silence of Bonaventure Arrow is a magical story about the lost art of listening and a wondrous little boy who brings healing to the souls of all who love him.
About the Author
---
Rita Leganski holds an MA in writing and publishing and a BA in literary studies and creative writing from DePaul University. She teaches a writing workshop at DePaul's School for New Learning and was a recipient of the Arthur Weinberg Memorial Prize for a work of historical fiction.
Praise For…
---
"The story keeps you enthralled as each new page seems to offer up new questions that beg answers. Leganski's meticulous attention to the details of the plot provides answers in a revealing and entertaining fashion." — Trevor Smith, The Winnipeg Free Press
"This debut novel is a tour de force. It's a beautifully, lyrically written fantasy and it captures the languorous mystery and allure of New Orleans . . . Magical." — Historical Novels Society
"Rita Leganski has crafted a dreamlike 1950s Louisiana. In the middle of that world stands our mute, but not voiceless hero, Bonaventure Arrow. So endearing, so wise. His love for his family will lift and inspire you." — Dolen Perkins-Valdez, author of Wench
"Magically evocative. . . . The prose is lyrically rhythmic. . . . A fine novel about love, loss, revenge and forgiveness." — Kirkus Reviews
"Lyrical." — Publishers Weekly
"Brims with love and magic. It's a timeless and lyrical story about the difference between hearing and listening, forgiving and redeeming. Bonaventure Arrow, an imaginative and special young boy, will claim your heart from the very first moment you meet him." — Rebecca Rasmussen, author of The Bird Sisters
"An imaginative and touching story of the surprising ways that we heal. Rita Leganski has created a gem in Bonaventure, a young boy who cannot speak but whose silence rings with truth and humanity. If I could hear a fraction of what he does, my heart would explode with joy." — Todd Johnson, author of The Sweet By and By
"This mystical fairy tale set in a 1950s-era Louisiana rife with religion, superstition, and tradition draws you in from the wondrous first page. Silence has never been so boundlessly eloquent." — Booklist
"I happily ignored my real life commitments for the magical, mysterious world of this novel about secrets, forgiveness, and healing of all kinds and my 'real life' has been better for it ever since." — Katrina Kittle, author of The Kindness of Strangers and The Blessings of the Animals
"Suffused with the mystical charm of New Orleans and the Louisiana bayou, Leganski's lyrical debut novel conjures dreams of voodoo, the power of healing, and the distinction between hearing and listening. This extraordinary, evocative novel will cast a spell over fans of magical realism." — Library Journal (starred review)